Her SeungWan from the Genesis Color Team talks about the colors and materials that Genesis chose for the GV80.
His ideal GV80 combination is Cardiff Green for the exterior, Maroon Brown and Smoky Green for the interior, and Olive Ash as the wood.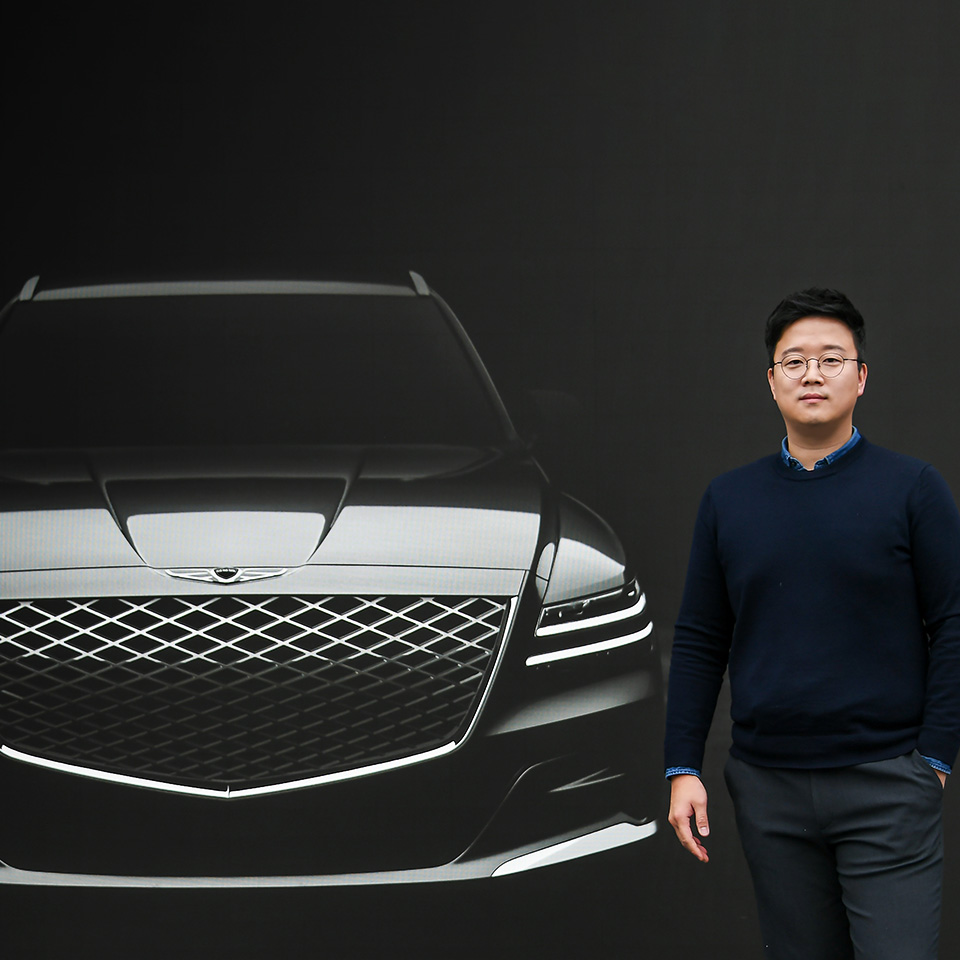 New colors and materials were used for Genesis GV80. The color designer of GV80 talks about the design process. | GENESIS story
news.hyundaimotorgroup.com
There is a stereotype in the premium car market. Achromatic colors and aristocratic designs are necessary if you want to make premium cars, for example. There have been few exceptions, especially for the exterior colors.
GV80, the first SUV of Genesis, is somewhat different from this perspective. A lot of changes are made here. No other premium SUV has done this much. Vivid colors, new painting techniques, and various materials of GV80 are bringing harmony. Researcher Her SeungWan at the Genesis Color Team talks about the manufacturing process of GV80.
Q. Speaking of the color choices of GV80, why are the names 'Lima' or 'Melbourne'?
We developed each color theme after we visualized the image of a certain city in the world. We did not just make colors and then named them using random city names. First, we listed cities whose images suit GV80 well, then we created exterior colors based on each impression.
And they are Cardiff Green, Lima Red, Gold Coast Silver, Melbourne Grey, and Matterhorn White. These names are from Wales in UK, Peru, Australia, Switzerland, respectively. This creation process will also be used afterward.
Q. What would be the signature color of GV80?
There are eleven (South Korean market) color options in total, from achromatic colors to vivid colors. Among them, the signature color of GV80 would be Cardiff Green. Next would be Lima Red, which was named after the city of Lima, where its desert is famous for red sand. Cardiff Green represents the luxury of GV80, whereas Lima Red symbolizes the sportiness of GV80.
Q. I am wondering why you picked green for the signature color.
The reason is quite simple. We wanted to express the unique character and the luxury that GV80 has. So far, automakers generally used achromatic colors for their premium models. But we needed to excel for our very first SUV.
We started to develop Cardiff Green about two or three years ago. Few models were using green for large sedans or SUVs in the market back then. But we were quite sure that the green could be the one, the 'it' color to symbolize luxury in the near future. Now, after GV80 was released in the market, the color green is trending even in different industries. We had guessed correctly indeed.
Q. Tell us about the color options of GV80 that could stand out from the usual Genesis models.
To differentiate between our first SUV and the rest of the sedans, we tried to emphasize the pigments in vivid color paints. Lima Red is a good example since we put interference pigments in the paint. Interference pigments are specialized pearlescent pigments that yield distinctive optical effects. These pigments are meant to be used in a transparent fashion over vivid colors to show their brilliance. For achromatic colors, we tried to maximize the luxury of Genesis by utilizing their smooth texture.
Speaking of matte color options, we have Matterhorn White, Brunswick Green, and Melbourne Gray. We know that not many automakers have tried matte colors for their SUVs, so we anticipate the GV80 will stand out even further.
Q. Matte color option sounds like a difficult task.
We had to make another paint tank including a lot of different tools for the matte paints. This was because whether a paint job on a car is matte or glossy depends on the clear coat applied to it. We could not use the same clear coat for the matte models. It took two to three years just for this job.
Q. Is a special technique required to wrap a car matte?
Matte paints are very tricky to handle. It could make your car look cheap, or the flat sheen could highlight body lines and contours, which sometimes get lost with a glossy finish. Even a 1-2% difference in glossiness would make a huge difference. We thought white, gray, and green will be the best choices for matte options.
Q. Looks like there is a lot of chrome garnish used for greenhouse. Why?
There have been controversies over how much chrome we should use. To stand out as the first SUV, we think it is just the right amount. Besides, we used real chrome for the panels, not chrome-colored paint.
Q. Why did you use matte chrome garnish for matte models?
Matte paint does not go well with glossy chrome garnish. That is definitely for glossy models. A matte model with matte chrome garnish highlights the sportiness of GV80. Speaking of the front grill, however, there is no matte one because it represents the identity of Genesis.
Q. Tell us what you mostly cared about when designing the interior color.
We thought that every passenger being 'energized' is the most important thing when we were choosing the right color for the interior. So we created these five combinations - Black and Black, Black and Vanilla Beige, Urban Brown and Vanilla Beige, Ultramarine Blue and Dune Beige, Maroon Brown and Smokey Green. They all represent luxury, sportiness, and dynamic.
Among these, Urban Brown and Vanilla Beige make a more modern and classy vibe than traditional brown colors. Ultramarine Blue and Dune Beige make the interior playful and lively. Maroon and Smoky Green make the most luxurious mood among the five combinations, according to customer feedback.
Q. Among sportiness and luxury, which aspect did you try to highlight further?
Genesis represents premium and luxury. But because GV80 is an SUV model, we also had to express its sportiness. So we used a traditional light beige color for the interior and did not forget to add a new vivid color such as Ultramarine Blue for a hint of sportiness.
The image we wanted to present through the design of GV80 was a strong, reliable figure. Also, we used metal elements to add a modern aspect. High-quality leather, aluminum, wood materials are used after being inspired by modern furniture. Especially, double G-Matrix patterns on aluminum materials represent the brand identity of Genesis - sportiness and luxury.
Q. Which unique colors and materials did you use to evoke a sense of emotions for GV80?
We put extra work, from the stitches of the crash pad and seats to the color and material choice. The real wood used on the center console and the door handle is an example. Users can also select between four different types of wood trim, including Birch, Black Ash, Olive Ash and especially "Metallic Pore Filler Ash," which symbolizes the luxury of Genesis.
Q. I was told that you had to travel a lot for the real wood materials.
The dashboard sports a big slab of wood veneer, which gives it a premium look. When developing the interior colors, we had to visit the suppliers who have a real wood veneer. After careful and complex evaluations, we handpicked four kinds of real wood.
Among the choices, "Metallic Pore Filler Ash" is the one that we tried to maximize the luxury of. We added unique kinds of metallic materials between the wood panels.
Q. Why did you use more wood, instead of using metals for GV80?
While there are four different kinds of real wood choices, there is only one type of aluminum-garnished interior. Real wood evokes warmer sentiments than the aluminum does. Your cabin filled with real wood will make you feel like you're sitting in a nice lounge.
Q. Tell us more about the other new design elements used for GV80.
The shift-by-wire(SBW) transmission base with a dial-style shift stands alone in the cabin, like a monument. G-matrix pattern carved on the dial prevents slipping, and real glass materials give it crystal-like looks. The ambient lights augment mood lighting with various colors. Every detail is carefully refined for a luxurious cabin.
Q. There are so many options from choosing the colors and materials of the exterior and interior. Any recommendation?
For the exterior, I would choose Cardiff Green. And for the interior, I would go with Maroon Brown and Smoky Green combination. Among the real wood option, my favorite is Olive Ash. All these colors are not really common in other Premium SUVs. You will be mesmerized by my choice. It took so much time and energy to work on these options.